How 13 Uncommitted Players Went Into a Season With No Offers, Zero Recruiting Experience, And They Were Able To Get Noticed!
It was December 2019, the buzz was starting as the 2021 class was preparing for their biggest season.
It was their recruiting year.
Going into 2020, we already had one player commit to a high power division two school.
This team was loaded! We had speed, power, great pitching, defense, and ATTITUDE. The fierce 14 were getting recognition in the regional market and nationally with Perfect Game.
College coaches were preparing to make sure they watched and followed this team.
Fast forward to May 2020, the world stopped, NCAA made regulations on D1, D2, and D3 schools around recruiting. They were prohibited to see players in-person at summer tournaments until mid-July.
Let's roll in the unfortunate events music…
In most situations, people would wave the white flag in submission and say, "well, I guess it's not meant to be."
The group took a different direction. They used Twitter, their Tiger profile, and email to keep college coaches in the loop.
The Tiger profile allowed them to store all vital information like their showcase information, Twitter handle, Instagram handle, GPA, ACT/SAT scores, and valuable playing metrics.
It was a central hub for them to use as they marketed themselves to the respective schools.
As the season progressed, the word started spreading about our players amongst the college coaching community. They would call us and say, "Tell me more about this guy. He's always in my feed."
Word of mouth was contagious.
The reason it worked was that everything was out in the open. Coaches could see that these players were receiving attention and the FEAR of missing out on this player became a reality. As I sit here writing this story I want you to take a look at your Tiger player profile. To do this scroll down to find out how to log in.
If you're in 7th and 8th grade, I would start getting familiar with Twitter and how it can be a marketing asset for you as you move into your high school and recruiting years. My high school players! Start using your Tiger profile as your central hub for all your information.
We provide a shareable link, so you're able to send people to your page to get all your student and playing information.
Enjoy the ride! Best of luck.
Spiker Helms
---
YOUR TIGER PLAYER PROFILE
"House all your student and player information in one easy location."

——————————-

Share what you want.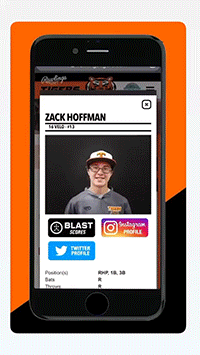 Steps:
Login to the VIP section
Click Player Profile
Edit Information, grab links from your social channels and recruiting videos
Share your profile link via email, text, and social media
---
Don't miss out on the golden era of being seen. Get the tactics and strategy we used to help the FIERCE 14 get recruited.
Listen to this podcast to get the insider information on how to get recruited through twitter, email, and text